Do You Think You're Too Different to Be a Leader?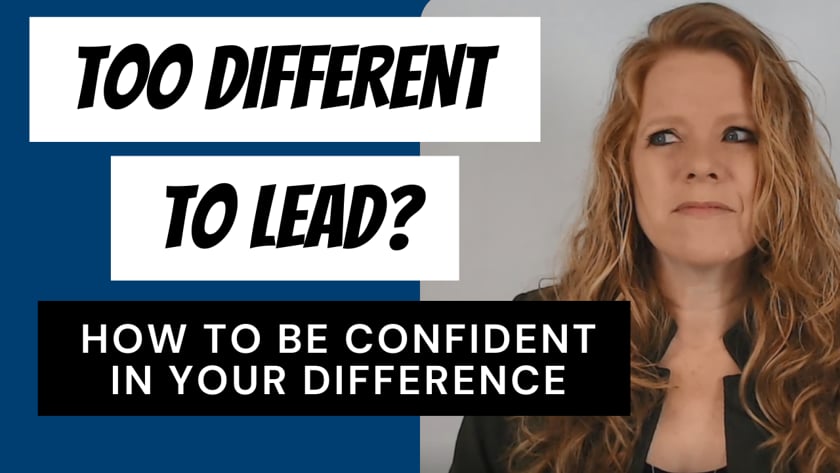 Dr. Sara Baker is a leadership enthusiast who believes that everyone deserves a workplace that builds and supports its people.
Don't wait for someone else to be the positive force of leadership that brings good to the world, do it yourself!
---
Are You Too Different to Be a Leader?
Do you ever feel like you're so different from the people around you that maybe you're not in the right place?
Maybe you're not in the right field?
Maybe leadership isn't for you?
Because when you look at all the other leaders in your company or out in the community around you, you think, "You know, I don't think like them,"
"I don't act like them,"
or maybe "I don't look like them."
Does that ever slow you down and make you think, "I don't know, maybe I shouldn't be here."
Well, don't let it.
The best thing about being a leader is that our responsibility is to pave the way forward. We're supposed to find a new path.
Leading and Defeating Imposter Syndrome
It may seem like other new leaders have it all together. Sometimes leaders can step into a new position and everything is great in the organization. They are already knocking everything out of the park. They've got great projects going on. They have good processes and everything is wonderful.
But, the truth is, those easy new leadership positions are few and far between. Perfect positions just don't exist, so it's normal to step into a new position and feel a little unsettled while you get to know your team and the organization and develop your plan to move forward.
Don't let imposter syndrome steal your confidence and cause you to doubt your effectiveness.
Never let what makes you different be a negative in your self-perception and never let it cause you to second guess your ability to make a positive change and be a positive leader.
Whether your feelings of being different are based on how you look, how you think, how you view the world, or how you approach problems and create solutions, you earned your spot as a leader and that "difference" is a valuable asset to you, your team, and the organization.
Leadership Is Never As Perfect As It May Seem
Different perspectives, different ideas, different solutions, different paths forward. That's what we need.
If the "same old thing" was working well for the organization, then your new position wouldn't have been available. Most reasons for turnover in leadership are tied to the ineffectiveness of leadership.
If someone is a stellar leader, in an organization full of other fabulous leaders, then why would they leave that position? Why would someone leave a great position? Perhaps it's because they are getting a promotion because that's a reason that many of us want to change out of a position.
But, even if your predecessor left for a promotion, why would there be a spot open in the company above them if everything is wonderful? Somewhere, someone in a leadership position didn't work out. And now you are here to make a positive difference.
Because we know that the statistics say that if people are happy in their jobs, they love their organization, they feel like the purpose is valuable, and they love their leader, their boss then most of the time, the vast majority of the time, they don't leave.
So if you are stepping into a new role as a leader, just know that although there may be great things that happened before you, the fact that you feel different, that you think differently than everyone around you is a good thing. The organization needs someone different.
Because leaders need to find new ways.
New Leader, New Perspective
Even if you haven't been in leadership very long, maybe this is your first leadership position and you're just thinking
"I don't know how to do this."
"I'm so inexperienced."
"I don't even understand where they are coming from and all I can see are all these new ideas."
Good! Those new ideas are just what we need.
Leaders need innovative ways to move forward.
The workplace is changing. And what our employees need is a sense of purpose, someone who believes in them and coaches them and helps them to develop as an individual.
That's a totally different approach to leadership than what we've seen over the last 50 or 60 years. So as our employees change, their needs change.
We need leaders who are able to change the way that they lead and think differently about the actions that they take and where they focus their energy. We need new leaders who are ready to step up with unique insights and a different perspective on how things are done so that we can find creative ways to move our businesses, move our organizations forward, and achieve the purpose, the greater purpose: contributing to the greater good. Because when we do that, when we have organizations who contribute to the greater good, they're successful.
Be Different and Be a Leader Who Makes a Difference
Whether you've been in leadership for a long time and are thinking about changing where you focus your energy and thinking about looking at different perspectives and trying to see new ways forward or if you're a brand new leader for the first time stepping up and thinking, "I'm not sure how to do this...," you just keep being different.
You keep finding different ways of seeing the world. Consider unique perspectives, consider new ways to do things, to think about things, to analyze problems, and to organize your team.
You just be different and don't feel like you need to fall in line and be just like everybody else.
The last thing we need are leaders who are just like everybody else.
Let's reform leadership. Let's make new things happen.
Let's change the way that we take care of our employees and serve our customers in our organizations. And let's be reformational leaders.
Are you ready to be a leader who makes a positive difference? Get started with our online leadership program and resources.